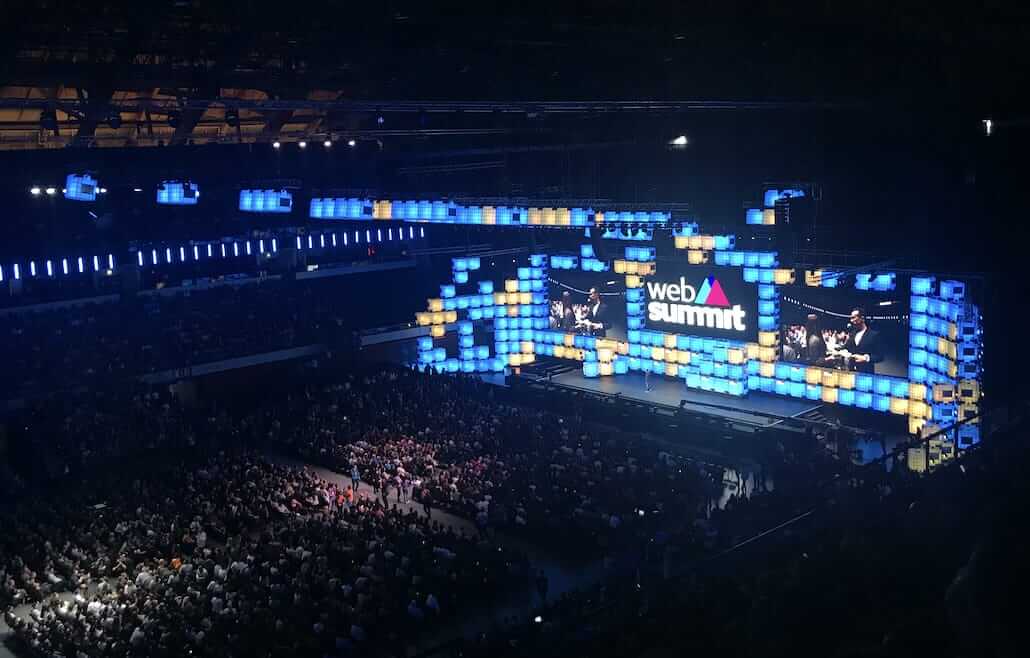 Web Summit 2019 has been a blast!
With a record number of attendees and a sold-out edition, the biggest tech conference in the world made everything in its power to meet our expectations and, frankly, to even exceed them. Held in Lisbon, Portugal, between the 4th and 7th of November, with over 70.000 participants from 163 countries and more than 1200 speakers, we can say for sure that this event is the place to be for every tech enthusiast.
Web Summit translates into a three-day tech frenzy and brings the latest news in terms of tech development as well as many speeches designed for learning and discovering the newest quirks of the industry. It can also mean an opportunity for networking, lead generation, professional development, and even market research.
This year's edition featured topics like 'The future of human existence: proximity, productivity and the pursuit of happiness' or 'Training AI and your car to see intelligently', with subjects focused on mobility, AI, productivity, the future, the internet and even going as far as discussing more sensitive subjects like data protection and vulnerability.
Web Summit 2019 featured talks from the whistleblower Edward Snowden, Margrethe Vestager, EU Commissioner for Competition, Kate Brandt from Google, world's renowned fighter Vladimir Klitschko for Klitschko Ventures, Tony Blair, Eric Cantona, a Global Ambassador of Common Goal, Jaden Smith, Ronaldinho and many more.
Web Summit took off Tuesday with a powerful speech held by Edward Snowden speaking via video link from Russia. Snowden is a former National Security Agency contractor who disclosed secret information regarding numerous global surveillance programs.
'What do you do when the most powerful institutions in society have become the least accountable to society?' was the question Edward Snowden put to an audience of thousands. He then went on to discuss GDPR, stating that what is aimed at giving people control of the information collected on them by businesses 'misplaces the problem.'
'The problem is not data protection, the problem is data collection,' Snowden said. 'The regulation of data protection presumes that the collection of data was proper and appropriate in the first place and that it doesn't represent a threat or a danger.'
'We don't fear the future, we are unstoppable' are the words the President of Portugal, Marcelo Rebelo de Sousa, used to end his speech at the closing ceremony of Web Summit.
The "main and tougher challenge" is to use the digital revolution to promote peace. 'It is not easy. This new wave going around the whole world is quite the opposite of that. We must fight for principles like freedom, multilateralism, peace' he said. He also talked about the goals of making Lisbon, Portugal and Europe a permanent digital platform, while also making society more inclusive.
'Is the goal to replace banks?' was the question Nikolay Storonsky, CEO of Revolut had to answer during his great speech at Web Summit, where he talked about the company's future goals and the problems it had to surpass while growing the business.
Storonsky spoke about the company's ambitions for the future, stating that the goal is to create a truly global bank which can offer services like insurance, credit, and even investments.
'We are going to offer everything a person needs daily. We work hard because we believe in the product and the value that brings. Will banks be replaced? I don't know.'
He also discussed the challenges the company had while growing, describing them as 'challenges any business has, like creating the right process and hiring the right people". He also shared his thoughts on dealing with compliance in the fin-tech sector, adding that 'compliance is very expensive, but not being complaint is much more expansive.'
The stages and speeches were not the only things Web Summit had to offer. We were also impressed by the large number of exhibiting startups, each one of them being very open and welcoming in presenting you their product. It was a great learning experience to see all these startups coming from different fields, like fin-tech, e-commerce, social or even agriculture and environmental sustainability.
When it comes to opportunities, even though it was a very big conference with a huge crowd, we can say that networking was the biggest of them all. People were very open to discussion and connecting with other people.
'The best networking happens after hours at Night Summit.' was the organiser's tagline for the extra activities prepared for the attendees. Night Summit is designed to help you explore Lisbon, get to know other participants and, in the end, to have some incredible nights.
As a general conclusion, we can say that Web Summit is the biggest and one of the best conferences we've ever been to. It has something to offer for everyone, from startups and business people to investors and developers.
What is left now to say other than 'see you again next year?'